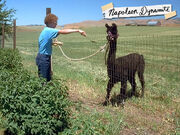 Tina is a llama, and also a pet to the Dynamite family.
Personality
Edit
Tina is ravenous and cranky, eating almost anything, earning the nickname "Fat Lard" from Napoleon.
In the DVD commentary, Jon Heder mentions a deleted scene including food being thrown at Tina, but they thought that it would be too cruel.