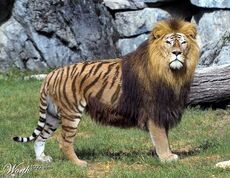 A Liger is a Lion/Tiger.
Biography
Edit
Ligers are real animals. You can spot them when you see a lion/tiger type cat, with a mane, and stripes. In the series, Napoleon states they are bred for their skills and magic. It is pretty much his favorite animal. In the animated series he meets liger Shasta.
A real-life liger does look like what is shown in Napoleon Dynamite.